UChicago CS News
•
Mar 04, 2019
Understanding the Future Through Science and Art — Pedro Lopes Joins UChicago CS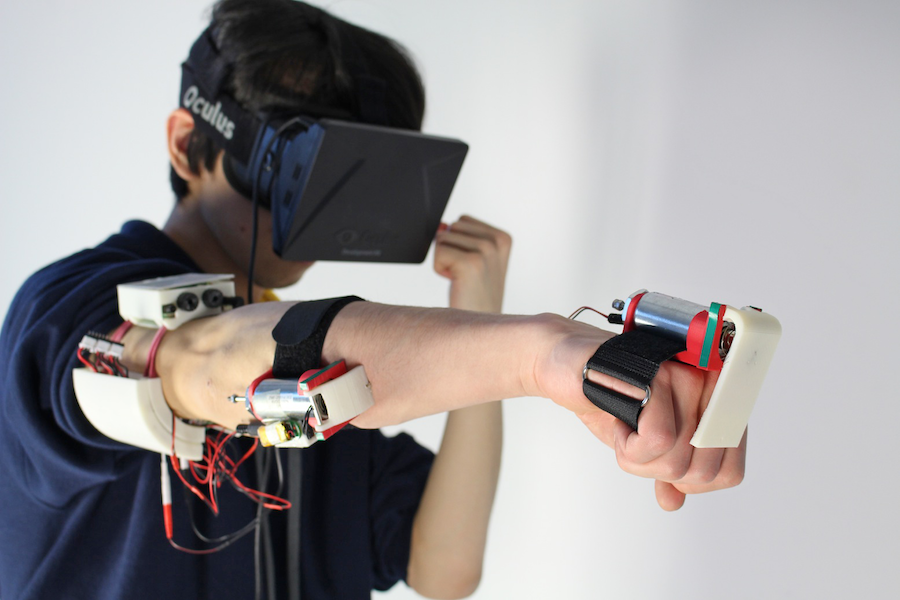 Fifty years ago, very few people would have foreseen a future where nearly everyone owned a machine that combined the phone, television, library, camera, map, and countless other functions into a pocket-sized package. It's almost impossible to predict what technologies humans will use in another fifty years. But in the field of human-computer interaction, it's never too early to start testing how people will use the devices of the future, and how those devices will, in turn, shape their users and society.
New UChicago CS Assistant Professor Pedro Lopes, who joined the department in January, takes on this heavy challenge through a combination of computer science, engineering, and art. In a career that has already pushed the limits of touchscreens, virtual reality, wearables, and muscle stimulation, Lopes blends creativity and science to invent, test, and philosophically interrogate tomorrow's technology.
"We're trying to see what technologies could make sense in 30 or 40 or 50 years," Lopes said. "A lot of human-computer interaction is making technology more useful. But I just make things more complicated…I'm more on the generating new ideas, new devices, new techniques level."
Growing up in Portugal, Lopes was originally drawn to computer science as a creative pursuit, learning the basics of programming and hardware working with calculator games, music, and college radio. As an undergraduate at Technical University of Lisbon, Lopes realized that human-computer interaction (HCI) was a research area where he could best indulge his creative and tinkering interests in a research context.
For example, some of his early work on touchscreens drew upon his musical pursuits as an experimental turntablist to create a mulitouch table for DJing. Other touchscreen projects utilized sound to help smartphones distinguish between different types of contact, such as with a knuckle instead of a fingertip, to create new interfaces.
During his PhD work at the Hasso Plattner Institute in Germany, Lopes' research evolved from phones to wearable devices, which have gained popularity through devices that, in most cases, passively measure a user's activity. But Lopes was more interested in inversions of that relationship, adapting electrical muscle stimulation techniques originally developed for rehabilitating injuries to create devices capable of controlling the wearer's body.
The idea "opened up a huge area," Lopes said. He created a device that moves people's arms to demonstrate how a tool, such as a spray can, should be used. Another guided the user's hand to draw complicated mathematical functions or data visualizations. Other projects explored how muscle stimulation could add resistance and feedback that makes virtual reality feel more realistic.
"We started going really deep and creating one wearable after another, and each one was more crazy than the one before," Lopes said. "We always try to ask deeper questions: can it teach you something? Can it help you with things that you already know how to do? It sounded like an interesting approach where humans and computers could really collaborate."
Of course, the concept of granting a machine control of your body doesn't appeal to everyone, and inspires a wave of questions in CS, HCI and beyond, into the realms of ethics and philosophy. Lopes grapples with these deeper questions through artistic projects and collaborations, such as Ad Infintium, an installation at the 2017 Ars Electronica meeting, or a concert where the audience played the band through muscle stimulation.
"Art seems to be a really good way to not just ask the question but also inject the question into people's minds," Lopes said. "The mechanism of art is much more fluid than science, and art values the question even more sometimes than the answer, so I felt like that was a great approach."
That bifurcated art and science process promises to continue as Lopes establishes his laboratory at UChicago CS. Currently, he's working with graduate student Jas Brooks on illusions to enrich VR experiences, and with visiting student Steven Nagels, he's exploring new forms of soft, stretchable electronic circuits.
The latter project includes a workshop to be held in the new Media Arts, Data and Design (MADD) Center, one of many features that attracted Lopes to join UChicago CS. Also appealing was the chance to build up the department's HCI research group and curriculum — Lopes is currently teaching an Emerging Interface Technologies topics course, and will teach Inventing, Engineering and Understanding Interactive Devices for undergraduates in spring quarter. But he says the quality of UChicago students was what most stood out during his interview process.
"The University of Chicago has a very special approach to education, one that allows students to be ultra-creative and ultra-critical in all disciplines," Lopes said. "HCI is already this massively transdisciplinary field, and I felt like here there were already all these people that were mixed personalities and mixed backgrounds. That was a huge draw."